If you work remotely, you're a freelancer or you're working on your own business, you need a space to do your work.
As someone who has worked mostly remotely (at home) for more than 2 years in Japan, I can tell you with some confidence that you need to separate your home life and your work life. In Tokyo it's expensive to have an apartment with the kind of space that lets you dedicate a whole room to just work, but now you have an option that's a lot cheaper and comes with a whole lot of other benefits: you can use a coworking space in Tokyo!
I've been using a coworking space for the last couple of months (full disclosure, it's The Hive and it's on this list), and it's been really good for raising my productivity and helping me mentally separate my work life and my home life. I've made a list of all the coworking spaces I've been to and worked at so you can pick one for yourself.
The "Original" Coworking Space – A Local Cafe
There are lots of cafes in just about every neighborhood in Tokyo, so it shouldn't be too hard to find one that appeals to you. If you're looking for a place to work a few days a week and not for all that long, I made a list of my favourite 21 cafes in Tokyo in this article here, so I'm sure you can find one that's within easy reach from where you live.
Benefits of working from a cafe Apart from not costing all that much (the price of a drink or two per day), working at a cafe can give you energy to get your work done. You have people around you so you don't feel so lonely just working at home, and it's usually a nice relaxed atmosphere. Some of my favourite cafes also have wi-fi, power outlets and comfortable places to sit and work for hours at a time. You also get the benefit of having a choice of places to go on any particular day, so you can work wherever you like.
Issues working from a cafe Space at cafes is not always guaranteed, and if you wanted to come in on a busy Saturday and get some work done you might find that you're waiting around or in a place that's a bit too crowded and noisy to get your work done. A lot of cafes have awful music, too…
You're not paying regularly for the use of the cafe, and in my experience this is both a blessing and a curse. A general psychological principle is that if you aren't paying for something then you tend to lower your estimation of its value in your mind. So if you're not paying for your working space, on those mornings when you don't feel like working you are unlikely to feel compelled to go and take care of business.
Personally I've found that I get a lot more work done when I'm at my coworking space than when I'm at home or in a cafe. At home there are just too many distractions and other things that I might want to do. In a cafe there are too many people coming and going, and it tends to be noisy with chatter. Coworking (particularly hot-seating) is a great option if you aren't at the point in your business yet where you want to invest in office space, but you want to start taking your business seriously. Most coworking spaces have dedicated offices that you can expand to meet the needs of your team, so if your business starts to grow you can expand.
A Subjective Overview of The Most Popular Coworking Spaces in Tokyo
Co-working spaces are on the rise in Japan, and it seems like there are new ones sprouting up all the time. Here are some of the options you have when it comes to hot-seating co-working spaces in Tokyo.
The Hive Jinnan
Opened in November 2018, this is my current coworking space in Jinnan, Shibuya. The company is originally from Hong Kong, so they bring a slightly different but really modern and original design philosophy. They say that "Tokyo is a design-lead city" so their cafe space on the first floor has a really nice layout and design, and I really love the tall tables with high chairs at the back so I can alternate between sitting and standing. They also have meeting spaces, dedicated offices and booths to have impromptu chats/meetings in.
The hot-seating price goes as low as ¥2,000, though at that price there are some caveats like a daily time limit. For all day usage of the space with printing, meeting room usage and event discounts it's around ¥15,000 a month. Inside the space is really chill, the coffee is great (and espresso drinks are much cheaper than a cafe) and my absolute favourite thing about this space is the staff. The community manager and all the staff are so welcoming and friendly, so it feels like a little community – I've met a lot of really cool people here.
I've run some of my events in this space as well, and there are lots of other events from learning workshops to talks about entrepreneurship, art and music. 
Definitely a space to check out if you're getting into coworking and also want a community of creatives to support your work.
The Vibe
This feels like the study room with all your friends (like Community). You got stuff to do, but that doesn't mean you can't have some fun at the same time.
This is much more geared towards creatives and makers with their awesome first floor workshop with woodworking, 3d printing and CAD/CAM machines.
I did a podcast with Hee Gun Eom, the founder of Nishiogi Place, to talk about why he wanted to start this kind of creative coworking space in Tokyo. They really want to help new entrepreneurs and businesses in Japan and the driving factor behind this space has been to educate and support. It's really commendable where a lot of other spaces can seem like their main target is corporate, Nishiogi Place is clearly focussed on makers and creatives.
They have been working with high school and university students too and really encourage people to come in and run events, like my Freelancing in Tokyo event in December and also with Sekai Creator.
I highly recommend this space especially if you want to get involved in a community that mentors and supports new entrepreneurs.
The Vibe
There's energy in the air, because people here are getting cool stuff done and you just wanna spend all day talking with the makers and building cool stuff.
Locations: Ginza
This is a freelancer and entrepreneur space that is great for foreigners – in fact it's the only (to date) English first coworking space. I did a podcast with the owner Robert Millar and he has some fantastic principles about business, working with others rather than looking for ways to take, and building community.
On top of that they have many different kinds of events here, including martial arts (awesome) and video game tournaments with their big projector setup. I really get the vibe that this place is a close-knit community and that the people here all hang out, have fun and enjoy being part of the space.
It's definitely a space to go if you want to be a part of the fabric of the space, and actually have the owner take on board your feedback. Robert is a very welcoming and friendly guy and so many elements of what makes Ginza HUB a great place to work started as things the coworkers there wanted. It's a very customer focused business compared to the more corporate and transactional spaces on this list.
The price for members is ¥25,000 per month, and that includes 24/7 access, private storage locker and free usage of the conference and event room.
The Vibe
At Ginza HUB I feel like I'm round a friend's house to do homework and occasionally play DnD.
How much money could you be earning in Japan?
Whether you're a teacher, freelancer, office worker or entrepreneur, you could be making much more money in Japan. Find out how much:
The best thing about Yahoo Lodge? Day passes are free! This was one of the first coworking spaces I went to for the sole reason that it is free to get a day pass, go inside and check it out.
There's lots of space here to sit and focus on your laptop screen, but also some places that are more open to encourage conversation as well as a little show kitchen. The space is separated into different kinds of environments, perhaps to encourage movement and creativity, which gives it a pretty original look.
I don't know what their game is but at the moment (this might change) it seems like it is free to just walk on up there and get a pass to use the space. I've only been twice so I don't know if they flag you for abusing the free day pass thing, but if you just want to try working in a coworking space and seeing if you like it, this is definitely one to try out now.
The Vibe
This feels like what it would be like if the library was cool and didn't have a librarian telling you to "shush".
Blink in Roppongi has a lot of cool startup events and you should definitely come and check one out. My friend Yan from Code Chrysalis (podcast about tech and startup culture in Tokyo with her here) has given talks here, and the cafe space on the ground floor was just the right size for a gathering of creative minds.
The cost is around 40,000 per month and for that you get a lot of added extras, like snacks, coffee, free meeting rooms, printing, event invited and some money off using the event space (in case you want to grow your business with some public speaking).
It also really helps that it is less than a 5 minute walk from Roppongi Station, which is really connected especially if you're doing business with companies in the area. It's easy to check out if you just go to an event there, which they have weekly it seems.
The Vibe
Blink feels like being around the water cooler talking with some really cool creative people.
Tokyo Chapter, also known as ninety-two 13 is a coworking space with a big asterisk. They also have share apartments for entrepreneurs and creatives! It's a spot where creatives can come to live and work together, do their work, host events and be surrounded by peers who will make them perform at their best.
I don't know anyone who lives there but I have been to a few events, and their space has a very startup feel to it, and it definitely looks like an interesting home for young creatives and entrepreneurs. If you're a digital nomad and you want to do your location independent business in Tokyo, this coliving/coworking space might be the place for you.
The sharehouse price depends on the room but I assume it also includes use of the coworking space. Coworking alone starts at ¥29,000 per month.
The Vibe
Tokyo Chapter feels like how working at a startup must have felt back in the early days of the internet.
This is a really interesting space near Seibu-Shinjuku station, and has a pretty unique layout and design philosophy. The main tables in the room look like the continents of the world, along with other tables in the shape of a grand piano or a cello, and the chairs all seem to be different makes so nothing there seems uniform or corporate in any way. It's very different from other spaces that seem to be copying the "hipster cafe" design trends, so if you're a creative I'm sure it would be great to be surrounded by all this when you do your work.
Personally I work on my laptop a lot and the main tables were a bit distracting with their edges and curves, so I moved to the back where there are a few normal shaped desks. I can imagine when they are busy you might have less choice of seating, so that's something to keep in mind.
Their night and weekend package is around ¥10,000 and you can get a locker there for an extra ¥5,000 per month so you don't need to drag stuff you use every day with you. If you want to use it all day every day a hotseating plan is ¥22,000.
The Vibe
A unique creative "flow zone", like it was designed by an artist with a passion for maps. 
This is a cafe with an interesting creative space above it. The price is quite reasonable for a creative space and you can just stop by and do your work. Even better is that they have a lot of tools and materials so if you are working on prototyping a design you can print it on one of their 3D printers, make it with wood or sew it together.
Their upstairs creative space is large and spacious, but with lots of interesting events going on every week and an interesting vibe. Creatives should check this place out.
The Vibe
This place is like is shop class had a cafe in it. Some people are off in their own world but cool stuff in happening and it's fun to be a part of it.
Fabbit has been around in Japan for a while and their price seats it firmly at the entry level and is basically a cafe space without the coffee included.
Their space in Ginza runs 16,000 per month, which compared to some other coworking spaces in Tokyo is pretty good value, thought their space is much less exciting than the other coworking spaces on this list (very office-y looking).
If you want to have an address there available to register your business, it's an extra 10,000 a month. I've only been to their Ginza space so if it's close to where you want to work or need to be it might be worth checking out.
The Vibe
Fabbit (at least the Ginza one) is like if your office didn't have a manager around. You still get your work done, but without the stress of being watched by 'the man'.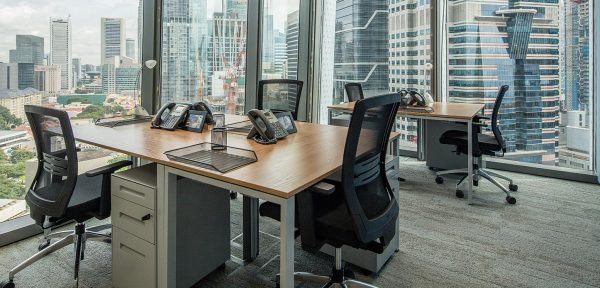 If you want a small private office to bring clients to, you could do a lot worse than Regus very swanky offices. They have reception staff and will act as reception for your business, so if you're inviting clients to come to your office to talk and connect with you, this will be a big boost to how you are perceived compared to if you are hot-desking.
The price changes accordingly of course, and the bigger offices with windows can run a pretty hefty cost. They have internal offices too which are quite cosy, if a little small. Worth looking at as an alternative to the next one on this list.
The Vibe
You know in movies where the startup doesn't have enough money for the swanky offices so they get a small room, but they don't care cos they are building something awesome? Yeah, that.
I've purposefully saved WeWork to last. It is by far the most well known coworking space in the world and in the last four years they have invested heavily in Japan, particularly Tokyo.
They have opened up shop in Shimbashi, Ginza Six, Ark Hills and Harajuku and many other locations around town and they are frequently opening up more. They are backed by SoftBank who have invested billions (although they recently cut back their investment significantly) in making WeWork the biggest coworking office space in Japan.
It is also very expensive, and for good reason. The amenities are top notch (the ones I have been to are truly awesome looking spaces, plus they have streamer's coffee and craft beer on tap) and by keeping the price up they ensure that only people doing serious work are willing and able to get in.
This space is for a certain kind of person. For freelancers like myself, the price is untennable, but if you have a company and you want to connect and collaborate with others then WeWork has one of the nicest spaces with great connections that could help your business if you're in certain industries.
The Vibe
It's like you're in the TV show Silicon Valley, and it's exactly how you imagine people working at Apple, Google or Facebook live like.
Which one is the right kind of space for you?
The answer to this really depends on what kind of person you are. Are you a freelancer? An entrepreneur? A creative? Do you want to connect with others to collaborate, or do you just want a quiet place to work away from distractions? Is community important to you or is it more important to have a place to meet with your clients that looks professional? How far do you want to be from home? If you have clients coming to meet with you, where are your clients based?
Ultimately it's going to come down to what your priorities are, and how you feel about the spaces and locations. Take all of it into account because co-working is not cheap.
Every single one of these spaces is sure to want to give you a tour of their facilities before you sign up, and most of them I have seen by either visiting someone working there, working there myself or going to events hosted there.
If you're in the market for a coworking space the first thing you should do is go to the space. Check it out. See for yourself which ones feel most comfortable and have an atmosphere where you can get your work done.
What kind of coworking space are you interested in? Are there other good options I missed? Let me know in the comments below: