Japanese can help you both professionally and  personally even outside of Japan.
There are thousands of bilingual Japanese job opportunities right now in the USA waiting for you when you level up in Japanese.
What you'll learn in this article:
– There are dozens of Japanese recruiting firms in the US seeking Japanese bilinguals like you (or who you could become) for high paying job placements in companies near you.
– The mega Japanese bilingual job fairs in the US and Japan that you can attend to get first picks of top careers in companies who need Japanese speakers. Just knowing who is attending will give you an advantage.
– The vast number of Japanese subsidiaries (child companies) and their numerous branches nationwide in the US.
– What companies need from a Japanese bilingual. Hint: You need to know more than just language skills.
– Why you shouldn't listen to the critics. Japanese is an irreplaceable skill and most critics you find online in particular don't know it well enough to see its value.
– Why comparing Japanese and Mandarin Chinese skills is like comparing sushi and dim sum.
– Why Japanese is a low-supply high-demand skill that is in a completely different league than other languages like Spanish in the US.
– Japanese is a long term investment with high yield returns.
Why should you listen to me about learning Japanese?
I know, because learning Japanese has helped me tremendously in my career despite being told otherwise all over the internet and especially from Japanese people.
I've worked as a Japanese translator and interpreter. I've worked as a bilingual sales rep. Japanese has been a factor in every position I've been in since I graduated university.  I've been invited to dozens of interviews with companies in the US just because I have Japanese on my resume.
I've seen post after post on internet forums and blogs saying, "Japanese is a waste of time" or "Learning Japanese is not essential even if you live there." I've seen other blogs selling some Japanese language service screaming at you that you must learn Japanese now and here are 5 really vague reasons (e.g., it's good for your career, you'll make more friends).
I thought it was time I weigh in on the issue with something so few others on the internet offer, real-world experience. This is an opinion piece based off of my own experience learning Japanese and using it in my career. I do not expect everyone to agree with what I say here.
I won't be providing graphs, charts or big data to defend my opinions. I will provide you with real-world experience to answer the question: Should I learn Japanese? Is Japanese useful?
I will not write about the personal aspect of learning Japanese here. First, let me tell you how learning Japanese will put more rice on your table.
Nihongo: The name of your new career insurance policy
I knew that Japanese would be useful someday, but to be honest I thought it would be too hard to learn to read and write, so I didn't even bother until I went to university.
I don't know why or how. Once I got going something just clicked. From the moment I started studying Japanese a Western Michigan University, I found myself waking up early every morning to review my Genki textbook. I would start having make-believe conversations with myself.
*There must be a million more proficient ways to learn Japanese than to use Genki or the alternative, Minna No Nihongo. But life gave me the Japan Times textbook, so I was genki! 
If I could start over and learn Japanese from scratch again?
I would go with an audio focused course with lots of speaking practice. Reading and writing is cool, and very useful, but the first skills you learn as a baby are listening, then speaking, then reading and finally writing, right? Take an audio course like this one from JapanesePod101 and you'll have a massive head-start on people who are memorising word lists from a textbook.
JapanesePod101.com – Learn Japanese with Free Daily Podcasts
For more advanced language learners who want to use the best techniques to get fluent in Japanese fast, take a look at this article where we talk about Glossika, possibly the best language learning audio course out there.
Anyway, I pretty soon found out about our campus Japan club, a club for Japanophiles and Japanese people to exchange culture and good times.
Not too long later, I found myself half a world away from Japan speaking in Japanese for hours on end. Not only would I speak with my professors, but through the club I met countless Japanese students and visitors.
A lot of the visitors couldn't speak English or simply were too shy to. Surrounding yourself with people who speak less English than you do Japanese is one of the most effective ways I know to quickly become more confident and more fluent. 
[tweetthis]I thought Japanese was too hard to read and write, so I didn't try.[/tweetthis]
You shine where bilinguals are in short supply
Fast forward to my first year abroad in Japan. I was a recipient of the JASSO full-ride one-year scholarship.
Nearly all my Japanese friends told me to go somewhere more famous like Keio.
My advising professor said to me, "Martin, do you want to go somewhere for the name or do you want to learn the most Japanese you can?"
I took his advice and I decided to go to Daito Bunka University instead. There, I knew I would be the least likely to find fluent English speakers and lots of other foreigners.
The big fish in a small pond effect
As a big fish in a small pond, I had loads of opportunities I may not have had anywhere else.
From week one, I was asked by the 国際交流センター kokusai kouryuu sentaa [International center for foreign students] to take newly arriving foreign students from Europe and the US to the 市役所 shiyakusho [municipal center] to register for the 在留カード zairyuu kaado [Foreign resident card] and the bank to apply for bank accounts.
---
---
Before I arrived in Japan this time, I already had two years under my belt of Japanese. No, I didn't just study Genki. I begged my professor to let me take upper classes where we used An Integrated Approach to Intermediate Japanese and we also read literature like Haruki Murakami. This was all way above my head and I was about to break my paper kanji dictionary in half by the end of it. But it paid off!
Because I could speak and read at an intermediate level by the time I arrived in Japan, whenever something came up at the university, the international center would call me.
When Softbank came to introduce special 6-month and one-year cell phone contracts just for the exchange students, I was the English-Japanese interpreter. It wasn't long after until Softbank asked me to be on call to interpret for them on the phone to handle foreigners walking into Softbank shops in Tokyo.
Being the best on the field is often enough
Was my Japanese all that? No. It really wasn't. After that year, I passed the Japanese Langauge Proficiency Test level 2. Many know it as the N2 due to its Japanese name, 日本語能力試験 Nihongo Nou Ryoku Shiken. That isn't the highest level. I passed that years later. Sometimes we don't need to be the best of the best. We just need to be the best of what is around us. 
Why I had opportunities was partly because I was fluent in (at least intermediate) Japanese. But not only that. I was a big fish in a small pond. I was in Saitama at a university with a relatively low population of English proficient Japanese.
Japanese recruiting firms are all over the US and they want bilinguals !
Fast forward to just before I am about to graduate with my bachelors. I heard about this new website called Monster. Apparently, you upload your resume and look for jobs. I uploaded my resume and I pretty much forgot about it. I didn't put much thought into it all.
A day or two goes by and my phone starts blowing up. I start receiving calls and emails from Japanese recruiters from all over the Midwest. I knew there were some Japanese automotive companies in Michigan, but I had no idea there were specialized recruiting agencies that serve primarily just those companies. There is a huge market for Japanese recruiting firms in the US and I imagine it would be the same in Europe and the Pacific.
I don't care what you read on the internet. I am again in the US and the exact same thing happened. I thought I would try out the new guys on the block like Indeed.com, ZipRecruiter  and a few others.
*I am not a fan at all of ZipRecruiter – lots of scams and fake companies! Big waste of time.
Regardless of the website I used, by just putting my resume out there I get at least one to three phone calls or emails per day now from Japanese recruiters.
Granted, I now have the JLPT level 1 (N1) and I have 5 plus years of working experience in Japan. But most recruiters don't seem to even get that when they call me. They see Japanese bilingual and call me before they dive into my resume.
When I say Japanese recruiters, I mean Japanese. They are Japanese who emigrated to the US to work here. How strange is is to be sitting at home in Michigan when the phone rings and to hear, "Moshi moshi" on the other end. I "moshi-moshi" back and their pitch begins.
A few famous ones I often hear from are Top-US, Pasona, and Inter-place.
In Japan, I also had a good experience with Recruit. You can find the Recruit North America branch information here.
If I had other skills like engineering or something in the medical sciences, I cannot imagine the salary ranges I could ask for. So far, I have found with my skill-set, companies really want a bilingual sales executive.
If you are with a good Japanese company here related to the auto industry, it isn't strange to see $50,000 to 60,000 a year starting salary. With overtime – and there will be overtime with any Japanese company – you might take home another ten thousand or so.
For no other reason than speaking Japanese and being personable, you see these numbers. For more sales experience, I hear of starting with 6 figures at the larger firms.
A starting offer is just that. An offer. You can always ask for more especially in this job market if you speak Japanese. If they decline, what is the worst that will happen? You can either accept or keep shopping.
Mega Japanese bilingual job fairs in the US
Transitions Abroad reports:
"In February and October, Disco International holds job fairs (www.careerforum.net) in the U.S. for people who are bilingual in Japanese and English…
The focus of the job fair is to match companies looking for bilingual employees with the Japanese students who are studying at universities in the U.S.; however, this is also a unique opportunity for non-Japanese who want to work in Japan to meet recruiters from big named employers such as Mitsubishi, Honda, and Hitachi.
Before coming to the fair a candidate must register through the website (www.careerforum.net). Some companies do recruiting before the fair by sending out messages to candidates who have registered. There is no cost to attend…"
The Boston Career Forum is going on right now (Nov 18th~20th) for 2016.
*Check out the huge list of companies attending the conference. You can start some job hunting research right from the list alone. All of these companies are hiring. Their next hire could be you.
The San Francisco Career Forum will be held on Feb 11th and 12 of 2017.
Note that the above two forums are primarily for filling positions in Japan. This doesn't mean there won't be opportunities to work in the US. But it is great if want the option to work in Japan. Some companies may not offer visa support, but why not ask?
There is another forum just for US only positions, the US Career Forum 2017 to be held on Mar 25th in 2017.
There is an upcoming Tokyo Career Forum to be held Dec 17th~18th of 2016.
Lastly, there is an Asian Career Forum which is being held right now (Nov 18th~20th) for 2016. The list of companies for this forum is even more eclectic than the ones above. Just because you can't attend the forum, doesn't mean you can't apply to some of them anyways.

---
Make sure your resume clearly states that you've lived in Japan if you have and reflects your current proficiency in Japanese.
---
The numerous Japanese companies in the US
Basically, if you shot a line down the middle of the country, you are looking at a lot of automotive companies, related manufacturers, and dealers.
Near Chicago, there will be also a lot of logistics, import & export, and more automotive companies.
Down all the way through Indiana to Kentucky to Texas, you not only see a lot of Japanese automotive companies, but you see energy companies as well. There are Japanese import & export companies that specialize in buying cheap steel from Mexico and reselling to American oil companies as well as Japanese automotive companies.
Automotive is a broad term. It could mean a car company yes. It may mean a company that makes the keyless entry fob and dashboard. Or, the company may simply buy and resell these products to suppliers of companies like Toyota and Nissan.
The many faces of Toyota in the US
For tax purposes, huge companies like Toyota don't just roll into the US as Toyota. No. They make more subsidiary companies than you could shake a stick at. Toyota USA, Toyota Tsusho, Toyota Motor North America… the list goes on.
All of those companies support other huge vendor companies that cater to them. Japanese are particular. That means that American suppliers often don't fit the bill and they end up getting serviced by Japanese vendors who also become based in America.
Everyone's home company is in Japan of course. While in the US with NAFTA, they can basically run products from Mexico to the US and Canada without much issue (at least that is how things are pre-Trump).
Japanese are particular. That means that American suppliers often don't fit the bill and they end up getting serviced by Japanese vendors who also become based in America. Everyone's home company is in Japan of course.
Automotive isn't your thing?
Go to the west coast to states like California and Washington and you will find Japanese IT companies, venture capital firms and even opportunities in tourism catering to Japanese tourists. In New York and the east coast, there is also a wide variety of Japanese companies.
Still, automotive is king with 日系企業 Nikkei kigyou [Japanese companies].
Japanese is not just a "nice-to-have" on your resume.
Japanese is a must for countless jobs in the United States of America.
I don't care what anyone tells you on Reddit or a forum on Gaijinpot, Japanese companies wish you could speak Japanese and many will pay you a lot more if you do. Most jobs I have been approached about won't even talk to you if you aren't bilingual with at least a JLPT level 2 or an equivalent level in spoken (and sometimes written) Japanese.
Wait. We aren't done.
All of those Japanese recruiting firms I mentioned above (and many like them) are direct employers too. Many will hire you to work for them as a recruiter or to work in their company.
You speak Japanese. You walk into an American automotive company like Ford. Or you walk into an American energy company, medical company, IT… They deal with Japanese every single day!
If you think Japanese is just some other skill like knowing how to use Microsoft Word, you have no idea how in demand Japanese is.
[tweetthis]There is a huge market for Japanese recruiting firms in the US.[/tweetthis]
Learning Japanese culture is half the battle
When I worked in Japan, I worked for an IT vendor servicing Japanese pharmaceutical giants like Astellas and Novartis. My job was to translate Japanese to English at the IT vendor. Where my team made real money was when the pharma companies would call me in to interpret live. Why would they call me in? Every time I went to a meeting, the Japanese could speak English.
There are many reasons for that. One is culture. On the call, you might have 3-5 companies all working on the same project. We dealt with one IT service vendor in the US that drove the Japanese pharma team nuts at times. The vendor was always late on delivery and as us Americans often do, they wouldn't take the blame for it. Instead, they started suggesting communication between them and my Japanese clients was at fault.
Well, anyone who really knows Japan knows this, you never give an excuse to your Japanese client when you are late. Never. And you never ever blame the client even if they are at fault.
A large part of my job was calming the Japanese side down. Many times the Japanese would (understandably so) become so upset they would only speak in Japanese. Then, I would take that and turn it into politically correct English so everyone kept moving along.
It is my experience that whether in Japan, Costa Rica or Thailand, Japanese people simply prefer to do business in Japanese. The truth is that the world still needs to learn Japanese. 
Bad basketball players make poor basketball coaches
Picture this on a basketball court. You see a man with a basketball. He shoots and shoots and the ball only goes in on every 11th shot. His team loses game after game.
Would you take advice from him about basketball? Would you listen to anything he says at all about how to dribble? You might nod along out of politeness, but you wouldn't take his advice would you?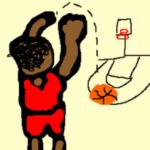 This is what I see people do all too often on the internet and even in Japan. If I had 100 yen for every time I heard someone say, "You can only use Japanese in Japan. So that's why I gave up (and I want you to give up too so you can join my giving up on Japanese club)."
Often, these same people will tell you how the Japanese are to blame for this problem or that at their job. Many of them are just not successful across the board in Japan.
Or worse. They are spectators. They hardly ever play and when they do, they lose. Instead, they would rather just sit on the sidelines and make vague speculations about why you shouldn't try to learn Japanese.
"Japanese only speak back to you in English! Don't waste your time with it."
I'm sure you've all seen a post like this one from Dwane on forums like Reddit or Facebook: 
"Don't waste your time studying Japanese. Why? The Japanese will not want to communicate to you in Japanese and try to speak to you in pigeon English especially if you are white. This also goes for fluent speakers. They don't want us speaking their language so take my advice and just learn some useful phrases."
Poor Dwane. It's like Dwane is saying, "Whenever I play basketball, the other team always wins and they are mean. I miss all my shots. I always lose, so you will too. Don't try basketball."
Have I spoken Japanese and had English returned to me?
Absolutely. I admit, it can be really frustrating sometimes. While studying abroad, I once took a Japanse friend of mine to a cafe in Kawagoe. I wanted to order us two green teas. I wanted to order us two green teas.
I couldn't see the menu so I simply asked the lady at the counter, "お茶がありますか O-cha ga arimasu ka [Do you have any tea]?"
The lady acted as though she couldn't hear me. She looked at my Japanese friend and in a quiet voice asked, "コーヒーということですよね? kohii to iu koto desu yo ne I [He means coffee right?]"
So, because I am a foreigner, even when I speak Japanese, she thought I would misunderstand basic words like 'tea' and mix them up with more culturally familiar terms to me like 'coffee'. As you can imagine, I wasn't too enthused.
After nearly 6 years in Japan, I can only remember a handful of stories like that. What it means is this: Most of the time, people just talked to me like I was a regular person and the times when I was treated like a dumb gaijin weren't that worth remembering.
*By "dumb gaijin," I mean dumb = someone that cannot speak. If you cannot speak Japanese in Japan, a lot of times you may as well be dumb because there won't be anyone who can understand you.
Often times, people end up speaking to me in Japanese anyway. Usually, something culturally sensitive comes up that cannot be translated in English. Either I tell a joke or the situation itself breaks the ice. In other cases, I really could care less. There are over 127 million people in Japan and my experience has been that most prefer to speak in Japanese.
Dwane's real problem is he is experiencing culture shock, a more long term kind of culture shock than just being surprised at the differences. The sooner he accepts that, the sooner he can move on. I also suspect that Dwane is by no means a "fluent" Japanese speaker and he isn't the best judge of the value of speaking Japanese either.
Japanese music is unlike English music. Listen to it a lot and you will learn it.
Another real problem that we cannot ignore: Accent, rhythm, and intonation. Basically I'm talking about the music of Japanese. If you showed up to a rock concert trying to play a guitar like you do a cello, don't you think that would sound a bit off?
That is what most anglophones seem to be doing when they speak Japanese. Vowels are too long, or too short. The music is out of tune. It is because they study too much from books and do not listen enough to native sound. This is why they sound like whatever Japanese sounds like to them in their heads. They are often putting their tongue in the wrong places because they haven't learned how Japanese is spoken by native speakers.
When you play jazz to me, I will respond in jazz. When you play rock to me, I will respond in rock. If we speak to Japanese people with English rhythm, their brain reverts to Engrish. If you have a foreign looking face, it just compounds.
[tweetthis]We don't need to be the best, we just need to be the best of what is around us.[/tweetthis]
---
If you would take 10-30 minutes a day to just listen to native audio, you would be absolutely amazed at what can happen.
I highly recommend JapanesePod101 for this. Audio lessons are really the way to go because they are based on the way we learn our mother tongue. After just a little time of listening and copying you'll find yourself knowing how to answer naturally and shocking native Japanese speakers with your great pronunciation.
Charlie came to Japan without speaking a word of Japanese and sucked at languages when he was in school (sorry Charlie, it's true). But after practising speaking from audio courses like JapanesePod101 his Japanese level exploded and people were always complimenting him on his Japanese. He even interpreted for his company when the resident Japanese staff were away! Pick them both up from the links below.
JapanesePod101.com – Learn Japanese with Free Daily Podcasts
Disclaimer: This is an affiliate link, any sales support our website.
---
Don't listen to the scoffers.
Yeah, learning Japanese is hard. So is learning accounting, engineering or any other skill you would learn to increase your value in the market.
There are plenty of salty expats in Japan and especially online who will tell you to not "waste your time learning Japanese."
Don't listen to them. Japanese is a job magnet and a life-skill with immeasurable value regardless of where you are in the world.
People often say that "Mandarin Chinese is more valuable than Japanese."
Let me just go out and say it: If you want more high paying job prospects in the US, Japanese trumps Mandarin time and time again. We aren't talking about the worldwide market. The context is America.
People compare Japanese and Mandarin like you would chicken soup or vegetable soup at a buffet. Few of them have studied both languages to any degree of mastery. I can tell you as someone who can read and speak both languages, Americans who speak Mandarin aren't in demand as much as those who speak Japanese. I would have to hunt Mandarin opportunities down if I wanted them. Not Japanese. The opportunities come to me and I do very little to fish them out.
I would prefer to tell you to learn both! As fun as that sounds, I know that isn't realistic for most. To learn one language to the level of mastery you need for using it in your career will require intense focus. That being said, I am one who has tried my hand at both Japanese and Mandarin Chinese.
Now I can tell you as someone who can read and speak both languages, Americans who speak Mandarin aren't in demand as much as those who speak Japanese. I would have to hunt Mandarin opportunities down if I wanted them. Not Japanese. The opportunities come to me and I do very little to fish them out.
I am not saying that there aren't opportunities in Mandarin. I wouldn't have gone through the trouble to learn it if it weren't so. I still study and it's hard. I came to Japan with intermediate Japanese reading ability after only two years of study.
I credit my kanji reading skills to studying Mandarin alongside Japanese in university. I never used flashcards for kanji. You don't have to when you are immersed in them. Chinese will do that.
Many of my classmates are using Mandarin in some form in their careers successfully right now. Some of my friends are Mandarin translators for the US State Department. One of my former classmates runs his own consulting agency where he sends Chinese students to US universities and brings TEFL graduated Americans to China. His knowledge of China and Mandarin is the lifeblood of his business model.
Can you walk into a consultation business? Absolutely not. If we are going to compare apples and apples, I still pick Japanese. If I have to go into an interview, it is Japanese I will talk about and often speak in. Often, I never even mention Mandarin. I get comments like, "Oh wow." Then, that is it.
Look what this guy said on Reddit:
"If you're planning to study either language for business use, you'll probably be more "useful" with fluent Mandarin than fluent Japanese given the relative sizes of the countries and business trends."
He is on to something with regard to "business trends." Yet he forgets that China has a very high population of English speakers. American ambassador to China, Jon Huntsman says "More people speak English in China than in the US."
Whatever it is, if this statement is even 25% true, it means speaking Mandarin and English by itself isn't that special at all. It means, there is a big supply of that in the marketplace. The demand for Mandarin and English bilinguals may be high, but the supply is higher and China is investing ever more in English. The supply trend will increase, not decrease.
Due to the high supply of English speaking Chinese, it means that if you want a job in the private sector using Mandarin, you better be really ridiculously good. I'm talking HSK 5 or 6.
Many companies send sales reps to China and Asia all the time. They would be really glad to see you speak Mandarin so you can get around alright in country.
Although if you search "Chinese" or "Mandarin" in job sites, you will see hundreds or thousands of jobs pop up, I often see that many of these jobs prefer if you are a native speaker of Chinese and at least have business level English. There are also over 3.5 million Chinese-Americans in the US and many of them are native in both Chinese and English.
According to the Pew research Center, 44% of that 3.5 million say they can speak Chinese. You are competing with them for these types of jobs. That is the truth.
This is an important factor as many of the bilingual Chinese jobs I see are based in the west coast. There are a lot of Chinese-Americans on the west coast.
Are there Japanese-Americans too who are native in both English and Japanese? Yes. There are an estimated 800,000 Japanese-Americans according to the Pew Research Center. Compare that to 3.5 million Chinese-Americans. Do you see the supply difference now?
Additionally, unlike Japanese where you can rely on standard Japanese for most working situations, not the case with Mandarin. You need stellar standard Mandarin (普通話Putonghua/國語 Guoyu) and you have to be able to deal in the dialect of whoever you're working with.
---
*Standard Japanese is often called 標準語 Hyojungo [Standard Japanese]. A common man's rule of thumb is that if they use a word or phrase on NHK, it's Hyojungo. Others say that it is the language spoken in Kanto where Tokyo is. This really isn't accurate as each area in Kanto can have its own variants that diverge from standard Japanese.
Some famous dialects or regional languages of Japan are:
関西弁 Kansaiben [Kansai region language]: This encompasses a wide range of dialects all slightly different from locals such as Osaka, Kyoto, and Nara.
東北弁 Touhokuben [North-eastern region languages]: Also covering a wide range of dialects from locals such as Niigata and Aomori. Historically, Hokkaido was settled later in Japanese history by Kanto area people. Thus, Japanese is nearer to standard in Hokkaido than in Aomori.
Check out this American ALT who speaks 山形弁 Yamagata-ben [Yamagata dialect]
---
Mandarin is an awesome language. But unless you are going to stay in Asia, I simply don't see there being as much of an opportunity for it as Japanese in the United States. The supply and demand don't match up as well.
Don't be discouraged if you want to study Mandarin. It is totally worth it. I'm just telling you how Japanese and Mandarin compare for getting jobs in the US.
What about German or Spanish?
Why learn Japanese when Spanish or German are much easier? I won't argue for or against. I say, learn as many languages as you have the time and energy for. But if we are banking on a career, it's Japanese.
The problem we saw with Mandarin may be even worse with a language like German here in the US.  I have a good friend who is as fluent in German as I am in Japanese or maybe he is better. His resume is just as visible as mine on Monster and Indeed. No one calls him about his German. Why?
Supply of German and English bilinguals is high and demand is relatively low (at least in the US). Am I saying Germans wouldn't prefer to do business in German? Of course not. But they can do business by in large in English and they do it quite well.
I had a Spanish major in university. I have studied Spanish since junior high. Many of my classmates use Spanish in some form of their work. That being said, if anyone tells you that learning Spanish on its own is some kind of golden ticket for a job, they are clueless.
Spanish is a must in some jobs, but it is always plus something else. Spanish plus law, Spanish plus nursing. You will need some other skill to stand out especially with the millions of people in the US who grow up speaking both Spanish and English. How can you compete with that? You have to learn something else.
I love Spanish. But I know that if I only could speak one other language, Japanese would be the one I would pick for my career.
Japan is Japan and Japanese is Japanese
Japan is not Germany. Japan is not China. Japan is Japan. Japan will always want to do business in Japanese. For some, that is the barrier. For you, Japanese can be your catapult.
Many US companies deal with Japanese companies and there are many Japanese companies in the US as we pointed out. If you want to advance in these companies, Japanese is often a must-have skill.
You can decide now to take Japanese seriously and rest assured that it will be a skill you can fall back on in the future.
Japanese: A long term investment with high yield at maturity
If you want to go teach English in a country and come home with a language that will help you find better jobs than when you left, give Japanese a shot. Give Japan a go.
The supply of Japanese-English bilinguals is lower than that of Chinese and English speakers. It is lower than that of Spanish and English bilinguals. This is what everyone else on the internet misses.
Japanese will not be easy. If you can learn enough to even just communicate with your Japanese in-laws or get around in Japan, you won't have wasted your time. Will elementary Japanese land you tons of jobs back home? No. Sorry. You need to go the distance for it to have weight in your career.
Aim for the JLPT level 3 first, which can at least use to apply for a visa to Japan. It may be taken into consideration. Then go for level 2. At that level, you can go home and secure lots of job opportunities. At level one of the JLPT is where much more opportunities open up.
So there is my answer in long form.
Yes, Japanese is worth it.
Yes, learning Japanese is useful even outside of Japan.
Tell us about your experience with learning Japanese in the comments below.